What can you do with old CD's and a cereal box??!!! I'm in this swap, and I'm new to altering things, and one of the things to do in this swap is to make something altered. I kept thinking about it and thinking about it until finally, I thought I would make a small book!
Materials:
Cricut Expression
Cereal Box
2 CD's
Bind It All
4 Sheets of 12x12 paper solid color
1 sheet of Print Paper
1 Brad
2 Flowers
Ribbon
Sponge Paintbrush
Stickles glue
Mod Podge
Cricut-"George" Cartridge using Circles
_______________________________________



I measured the CD's so I can cut paper on the Expression at 4 3/4 inches. I cut out all the circles of solid paper. I took apart the cereal box so the box will lay flat on the sticky mat.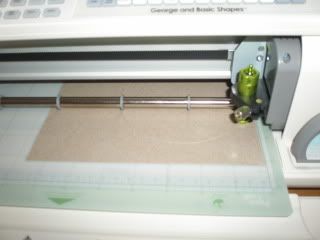 I cut out four circles also at 4 3/4 inches on the expression. I had it set at the highest pressure and it cut out perfectly. I didn't need to change to the deep housing blade.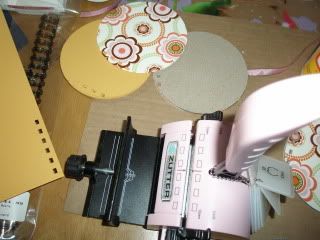 When I cut everything out, that was when I used my Bind it all to cut all the sides of the paper and CD's and cardboard, so when I glue it, it will come together perfectly.
I glued the cardboard on both sides of both CD's using Mod Podge. I glued the ribbon on the CD at that point so I will be able to tie it together to keep the book shut.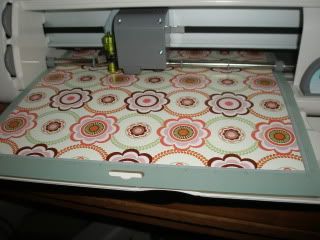 This is the print, I used it for the covers outside and inside, on either side of the cereal box.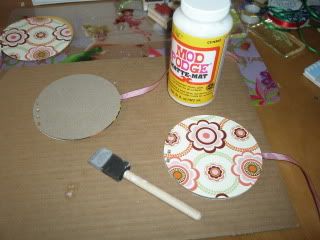 I glued with Mod Podge the print onto the cardboard. I kept out the cover and embellished the front with flowers and a brad.


Then I binded it together!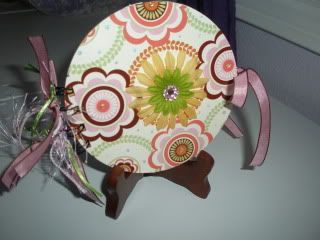 Here it is!!! All done! Just put ribbon on the edge! It was great fun to make!