Hello everyone, hope you are having a great October! Here are my latest card and Christmas tag creations! Thanks for looking!
__________________________________
Here is a card I made for a card swap I'm in. I used a small amount of coral colored cardstock and embossed some flowers on there and highlighted with copper ink. Then I added a flower to match. On the brown paper, I sewed around the edge with coral embroidery thread, and highlighted the edges with copper ink again. I I used a flourish stamp and gold powder and I heat embossed the background. I used my cricut and cut out the Sentiment.




Here below is just a simple sympathy card I made for a dear family. I used the cricut for the sentiment. I inked with olive green the edges and the flourish stamp. I added the paper flower.




Here is a new card idea I thought would hold a friend's gift-card. I used fancy embellished paper, and pearl paper for the background and stamped it with some stamps to decorate and tied it off with a silver ribbon.




Here are some tags I made for a Christmas tag swap: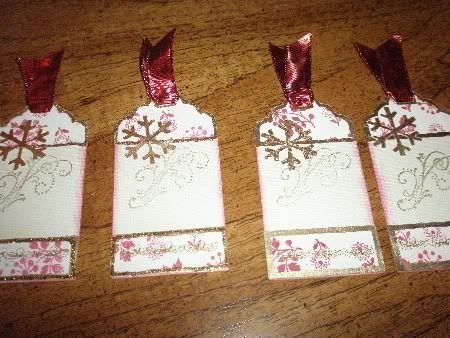 This tag below opens inside like a card, and I used pearlized paper, it is stunning in person!